On Friday the 28th of April, the class went down to the Bayswater Wetlands for a day run by the City of Bayswater. It was a terrific day out in the sun where the students participated in a variety of exciting activities.
We got to learn about how Australia's native fauna are looked after and even got to set some traps that the Department of Parks and Wildlife use to protect them and collect information!
The class also had a tour of the Eric Singleton Bird Sanctuary where we went bird watching and saw a variety of birds with our binoculars. It was very interesting to learn about how the sanctuary was created, and the effect our water usage has on it.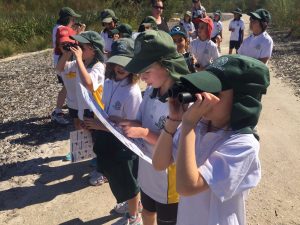 Another activity we did was test the water levels of the Swan River. We got to use the equipment that the Department of Parks and Wildlife do to look at  various levels of the water. It was interesting to learn about what happens when different levels in the water were too high or too low.
The most popular activity for most students was being able to go fishing! The entertaining team from Recfishwa taught us the importance of fishing in a sustainable way, and how to fish. The students had a lot of fun attempting to fish, and Brooke even caught a bream!
It was a lot of fun, and the students learnt a lot!